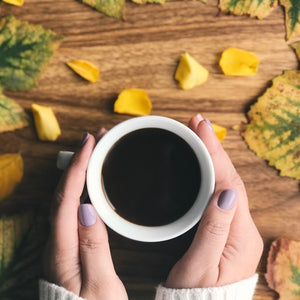 Guatemalan 2.5 lb bag
Regular price $22.95 Your Price
Many characteristics of Fraijanes Fancy SHB contribute to producing exceptional coffee.  With plenty of rain, high and variable humidity, a wide temperature range, and volcanic soil this creates a superior Guatemalan Fraijanes coffee.  Pacaya an active volcano, the most active of Guatemala's three live volcanoes, supply the Fraijanes region with a light deposit of ash every so often, giving the soil an important mineral boost. The region of Fraijanes is located north of Lake Amatitlan in the mountains surrounding the Valley of Ermita where Guatemala City is located.
    Our unique coffee grows in the western highlands of Guatemala at an elevation well over 5,200 feet. While Antigua is known to exhibit the typical Guatemalan coffee, the SHB Fancy Faijanes displays a fuller body. The region's mineral rich volcanic soil creates a distinct flavor with low acid and chocolate overtones. Dried in the warm Guatemalan sun and care that goes into producing crops.
The people of the region depend on the cultivation of coffee for their success in life. These growers are committed to keeping the quality of the coffee cultivation superior, thus organizing themselves as a cooperative.  This helps improve the social and economic conditions of all those involved in the cultivation and development of unique and rare Guatemalan coffee.